What is Silver?
Silver is presented as Ag in the periodic table, and it is valued due to its decorative beauty and electrical conductivity. Silver is well known for its electrical and thermal conductivity as well as being an alloy for elements such as nickel or palladium. Alloys that include silver are tougher, harder, and more fusible compared to pure silver. This makes it good for making jewellery that lasts. It tarnishes slowly in the air as the sulfur compounds react with the surface forming black silver sulfide. This can easily be reversed by polishing, bringing the items back to their shiny appearance. It is commonly crafted for its beauty into fine jewellery and silverware. Sterling silver (an alloy of 92.5% silver, blended with copper and other metals) gives a lustrous appearance to coins, jewellery, and silverware. Pure silver is slightly harder than gold but still very ductile and malleable. This makes it a natural choice for dental fillings. Silver is the most reflective metal and because of that is used in solar panels and mirrors.
Where To Sell Scrap Silver
We buy a large range of scrap silver, both online and via our showroom in Birmingham's Jewellery Quarter. We test all metals onsite and can supply an immediate quote on what we are able to pay on the day on your silver scrap and bullion. We buy all forms of silver, from broken, unwanted jewellery to bullion coins and bars.
Best Place To Sell Silver
Lois Bullion is one of the UK's largest buyers of scrap silver. Our specialist silver buying team aim to pay you the best possible prices for your silver, whether it's in person or if you choose to post it to us.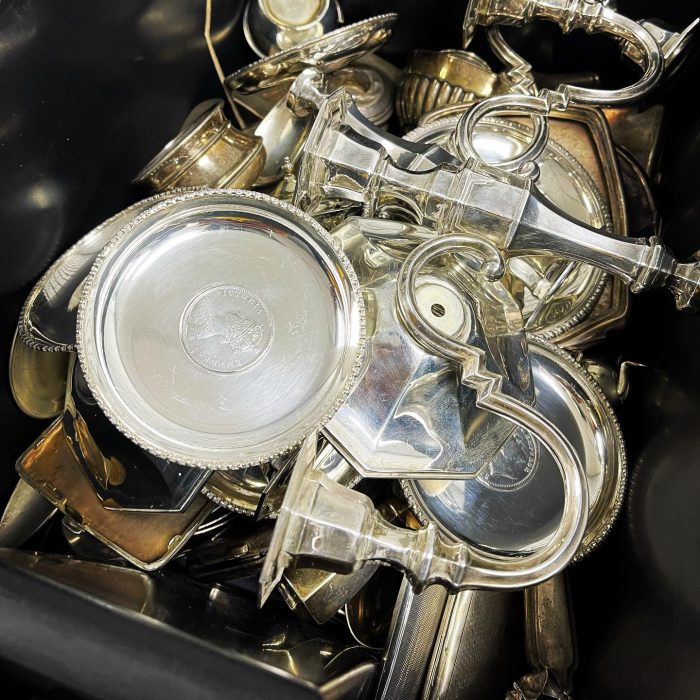 Selling Your Silver To Lois Bullion
Step 1
Try our online calculator to get an estimate price for your items and order a free pre-paid postage pack.
Step 2
Fill out the form and package your items securely in the packaging provided. Post your item at the post office free of charge.
Step 3
We receive your items, calculate a price, and provide you with a quote.
Step 4
Once you accept the price, we will arrange an immediate bank transfer into your account.
Scrap Calculator
How much is your silver worth?
Current Scrap Prices
Figures accurate as of: October 3, 2023