Why Sell Scrap Gold To Lois Bullion?
Although a lot of our competitors say they are the largest buyers of gold and pay fair prices, we stand by what we say, shop around and feel free to call us. Most of our competitors pay between 80%-90% for scrap gold. We pay as high as 98% and certainly nowhere near as low as 80%!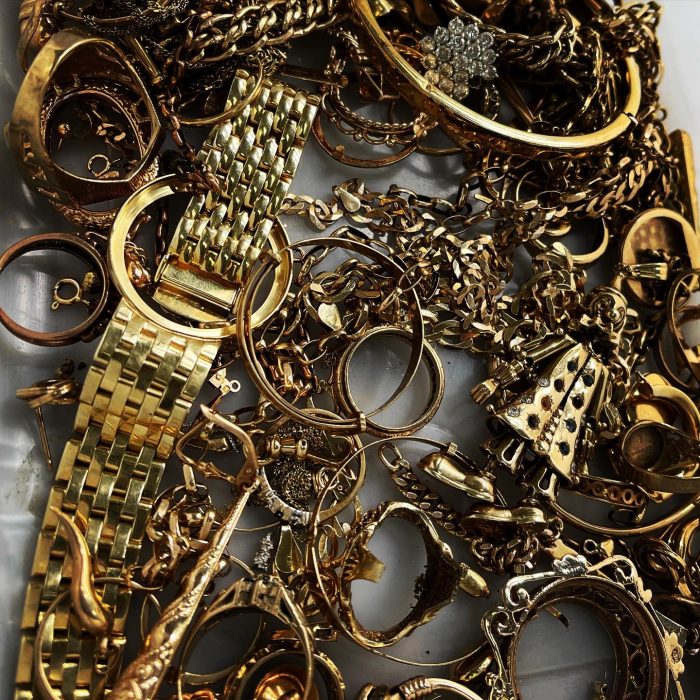 We also pay high rates for broken, scrap, damaged jewellery and unhallmarked gold unlike others who pay lower rates for damaged or unhallmarked items. We will test the gold purity on the spot and make you our best offer immediately in store or if you post your items to us, one of our friendly team members will give you a call with your quote.
Selling Your Gold To Lois Bullion
Step 1
Try our online calculator to get an estimate price for your items and order a free pre-paid postage pack.
Step 2
Fill out the form and package your items securely in the packaging provided. Post your item at the post office free of charge.
Step 3
We receive your items, calculate a price, and provide you with a quote.
Step 4
Once you accept the price, we will arrange an immediate bank transfer into your account.
Sell Gold From Anywhere In The UK!
Our customers come from as far as Scotland and even Ireland. A large number of our customers either travel to our friendly showroom or simply post their gold to us from anywhere, London, Birmingham, Scotland, Leicester, Yorkshire and even Ireland.
We usually pay same day by bank transfer once we have spoken to you after valuing your items. Usually this process is instant and free of any fees.
We pay better than most cash for gold places on the high street so feel free to call us for a price match!
Selling Scrap Gold To Us
It doesn't matter what purity or mix of purity your gold is. We will always offer the right price for your gold. We can also melt and assay large quantities of mixed scrap gold to gauge the best possible price.
Unlike some, we will buy any quantity of gold, whether it's a 1 gram or several kilos. Our team is geared to buy any quantity of scrap gold. And we treat you all the same, with fairness, politeness and respect.
We are one of the most competitive gold buyers in the UK. This is why even traders bring their scrap to us to sell.
Best Place To Sell Scrap Gold
We pay the best prices for scrap gold in the UK. If you are looking to sell your scrap gold, then our team of experts are ready to help you get the most value for your precious metals. No matter the condition of your scrap gold, we'll be happy to take a look and give you the best price found anywhere online and instore.
Lois Bullion is one of the UK's largest buyers of scrap gold. Based in the heart of Birmingham's Jewellery Quarter, our specialist gold buying team aim to pay you the best possible prices for your gold, whether it's in person or if you choose to post it to us. We also buy Gold Sovereigns, Gold Krugerrands, Gold Bars, Rolled Gold and Gold Filled Items.
Scrap Calculator
How much is your gold worth?
Current Scrap Prices
Figures accurate as of: October 3, 2023