Introduction To Gold Sovereign Coins
Gold sovereign coins are some of the most iconic and sought-after coins in the world. With a long and interesting history, these coins have been revered for centuries as symbols of wealth and prestige. This article will explore the history and investment potential of sovereign coins. From their humble beginnings to their use today, this article will examine why these coins remain such a popular investment choice.
The First Sovereign Coin 1489
On 28th October 1489, during the reign of King Henry VII, England's Royal Mint created a beautiful coin which would become known as 'the sovereign'. Although other gold coins had been in circulation for over a century before this point, it was the most valuable one yet. This new money marked an incredible step forward for England's currency and ushered in a period of wealth that still resonates today.
On the front of the first sovereign coin, Henry VII was depicted seated on his throne in a long coronation gown. At its back, the royal arms with an intertwined rose illustrated the unification of York and Lancaster after the Wars of Roses. This oversized piece spoke loudly that stability was present once more following these destructive wars as well as paved new paths for future monarchs to mint their own coins – essentially showcasing unparalleled wealth and prosperity within England's kingdom!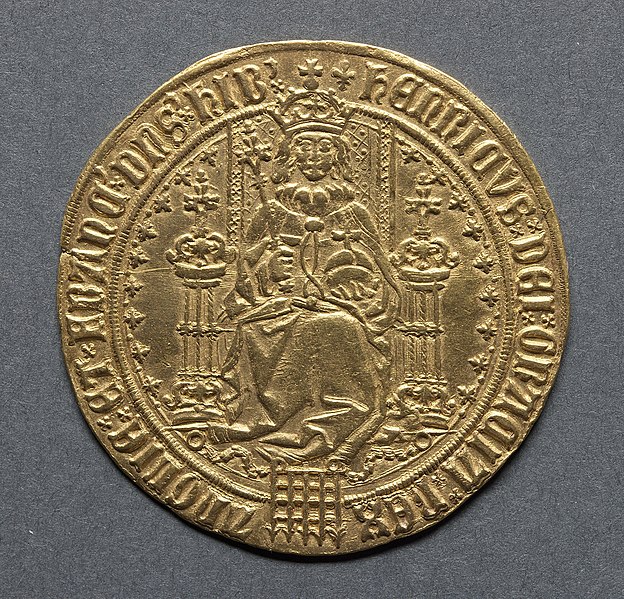 The Reintroduced Sovereign Coin 1817
Sovereigns were first introduced in 1489, however the Guinea replaced them, but then in 1817 the sovereign was reintroduced. The 1817 22ct gold sovereign was nearly half the weight and diameter of its predecessor, yet retained the same aesthetic appeal. On its reverse featured an image designed by Benedetto Pistrucci: St George slaying a dragon. Sadly, in 1825 it was replaced with a far less popular rendition of the royal coat of arms, however this dissatisfaction resulted in Queen Victoria reverting back to St George's design during her period as ruler.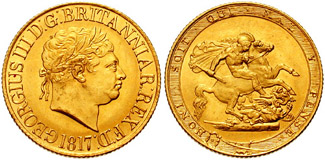 The popularity of the sovereign was aided by the significant growth of the British Reign, with Victorian conquests in the 1800's. The result of this unprecedented expansion, the sovereign was readily available and used gold currency of the time within countries that were either under British Rule or allied to the British. In fact the coin was so popular that the London mint had to expand, giving way to growth of the Australian, South African, and Indian mints – all gold producing countries. The main mints included:
Pretoria
Bombay
Ottawa
Melbourne
Perth
Sydney
Adopting The Gold Standard
The government's primary focus after Napoleon's defeat in the Battle of Waterloo was to improve the economy. One immediate issue that needed attention was the coinage, which had been suffering from shortages throughout King George III's reign. The decision was made to adopt a Gold Standard, and initially it was proposed to reintroduce the 21-shilling guinea. However, it was eventually decided that "Twenty Shillings and Ten Shillings" would be more favoured by the public than Guineas, Half Guineas, and Seven Shilling Pieces. The 20 shilling was introduced and given the name sovereign.
Britain Departed From The Gold Standard
The use of the sovereign as legal tender ended in 1931, when Britain abandoned the gold standard. This meant that gold was no longer used as the basis for valuing the currency. As a result, the sovereign was no longer widely accepted as a form of payment.
Today, the sovereign is still produced by the Royal Mint, but it is primarily a collectors item rather than a form of currency. British currency is now based on paper money, with coins made from a variety of metals including copper, nickel, and aluminum.
Sovereign Weights, Purity And Gold Content
Since the 1817 revival, sovereigns have been struck in 916 gold or popularly referred to as 22ct or 91.6%.
Standard Sovereign Specifications
Gold Content in troy Ounces .2354
Karat / Carat 22ct
Weight in Ounces .2568
Weight in Grams 7.9873
Net Gold Weight in Grams 7.331
Diameter in mm 22.05
Thickness in mm 1.52
Gold Fineness .916 2/3 (.9166)
Calculating the Gold Bullion Value
Calculating the gold bullion value of a Sovereign is done using the formula below:
Gold Price x 0.2354 (or 7.331gm) = Gold Bullion Value of a Sovereign
Various Sizes & Designs
The coins come in various sizes and designs, from quarter sovereigns, half sovereigns, double sovereigns, to large five-pound coins. They are highly collectable for their designs, rarity and historical significance. Sovereigns are often considered to be a symbol of wealth and prestige, as well as a sign of loyalty and patriotism.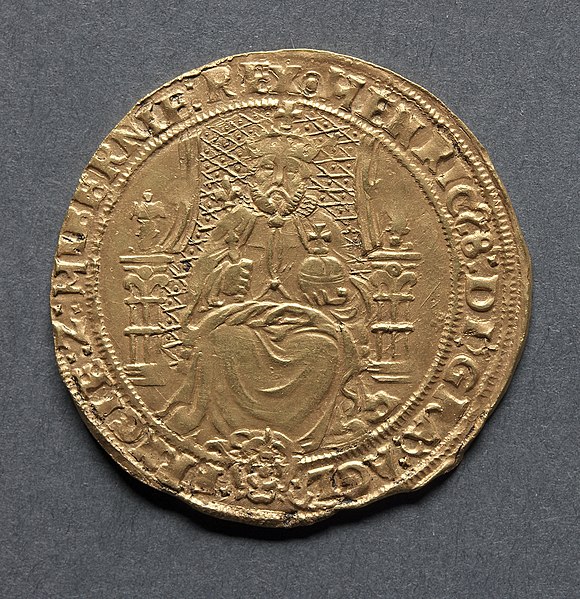 Sovereigns As An Investment
Sovereigns have been used as an investment option since the 1800s, with many investors buying and holding them as a hedge against inflation. Today, sovereigns are still revered around the world and remain a popular choice for investors who want to diversify their portfolios.
The sovereign is an important part of history and will continue to be a popular choice for investors and collectors alike. They are a great way to diversify your portfolio, or simply enjoy the beauty and craftsmanship of these timeless coins. No matter the reason, gold sovereigns remain an enduring symbol of wealth and power.
Furthermore, sovereign coins are known for their beautiful design. Many coins feature intricate engravings and detailed images that make them highly collectable. As such, many people enjoy collecting sovereigns as an interesting hobby or as a form of investment.
Buying Sovereigns
When you shop at Lois Bullion, you get the chance to buy sovereign bullion coins for low prices. Our best value sovereigns worth is based simply on their gold content and not evaluated for numismatic or collector value these coins are chosen at random. At Lois Bullion you will find Half Sovereigns and Full Sovereigns all the way up to Double and Quintuple Sovereigns available to purchase, we are sure you will find what you need at Lois Bullion.
Selling Sovereigns
Selling your gold sovereigns is easy and profitable with Lois Bullion. We pay some of the best prices for sovereigns in the UK, meaning you will get a great return on your investment. Our expert team is on hand to answer any of your questions and make sure you get the best possible deal when selling your sovereigns. Plus, it doesn't matter what condition they're in – we will buy them no matter what. So if you have any sovereigns to sell, just get in touch with us online or visit us in store and you can ensure that you receive a fair price and an efficient service.