9ct Scrap Gold
£16.98 per gram
14ct Scrap Gold
£26.40 per gram
18ct Scrap Gold
£33.96 per gram
21ct Scrap Gold
£39.62 per gram
22ct Scrap Gold
£41.51 per gram
24ct Scrap Gold
£45.28 per gram
Silver .999
£0.50 per gram
Silver .925
£0.47 per gram
Silver .900
£0.45 per gram
Silver .800
£0.40 per gram
Silver .500
£0.25 per gram
Platinum .999
£18.79 per gram
Platinum .950
£18.03 per gram
Platinum .900
£17.08 per gram
Palladium
£42.08 per gram
9ct Scrap Gold
£16.98 per gram
14ct Scrap Gold
£26.40 per gram
18ct Scrap Gold
£33.96 per gram
21ct Scrap Gold
£39.62 per gram
22ct Scrap Gold
£41.51 per gram
24ct Scrap Gold
£45.28 per gram
Silver .999
£0.50 per gram
Silver .925
£0.47 per gram
Silver .900
£0.45 per gram
Silver .800
£0.40 per gram
Silver .500
£0.25 per gram
Platinum .999
£18.79 per gram
Platinum .950
£18.03 per gram
Platinum .900
£17.08 per gram
Palladium
£42.08 per gram
Selling Your Silver to Lois Bullion
We buy a large range of scrap silver, both online and via our showroom in Birmingham's Jewellery Quarter. We test all metals onsite and can supply an immediate quote on what we are able to pay on the day on your silver scrap and bullion. We buy all forms of silver, from broken, unwanted jewellery to bullion coins and bars.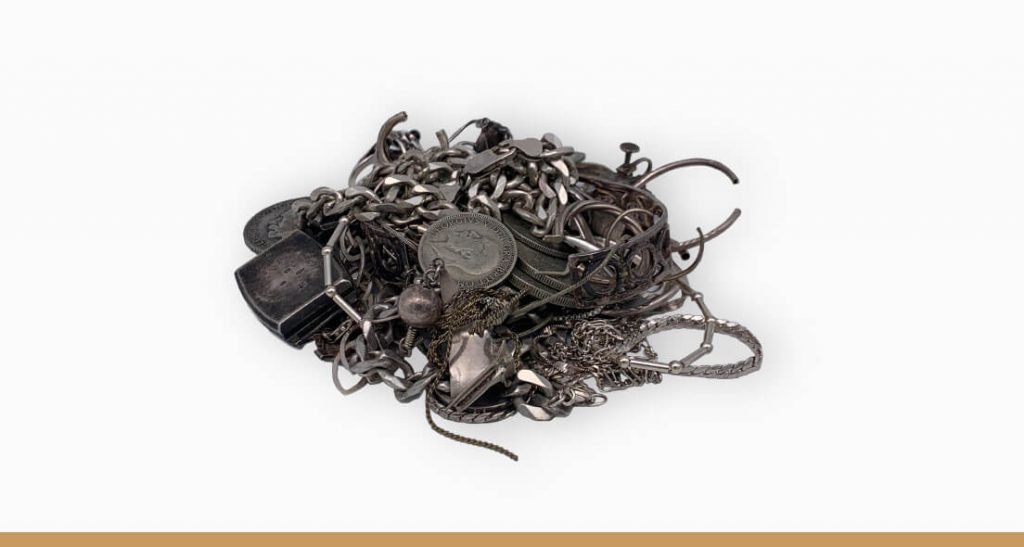 Selling Your Silver To Lois Bullion
Step 1
Feel free to call our showroom to get a price or use our silver scrap calculator if you know your metal weights and parties.
Step 2
If in store, we will assess your items on the spot in-front of you and make you an offer. If posting to us, fill in our form and send it off with your items.
Step 3
Package your items securely and post them to use, make sure you adequately insure your items and pack discreetly.
step 4
Once we agree on a price, whether it's in store or over the phone, we will arrange an immediate bank transfer or issue a cheque if you prefer.
How much is your scrap worth?