Selling Asian Jewellery to Lois Bullion
We are often asked by our customers: Where do I sell my Asian jewellery? At Lois Bullion, more than half of the gold we purchase comes from South Asia, specifically from jewellery manufactured in countries such as India, Pakistan, Bangladesh, and Sri Lanka. In these countries, gold is commonly sold as 22ct, or 24ct.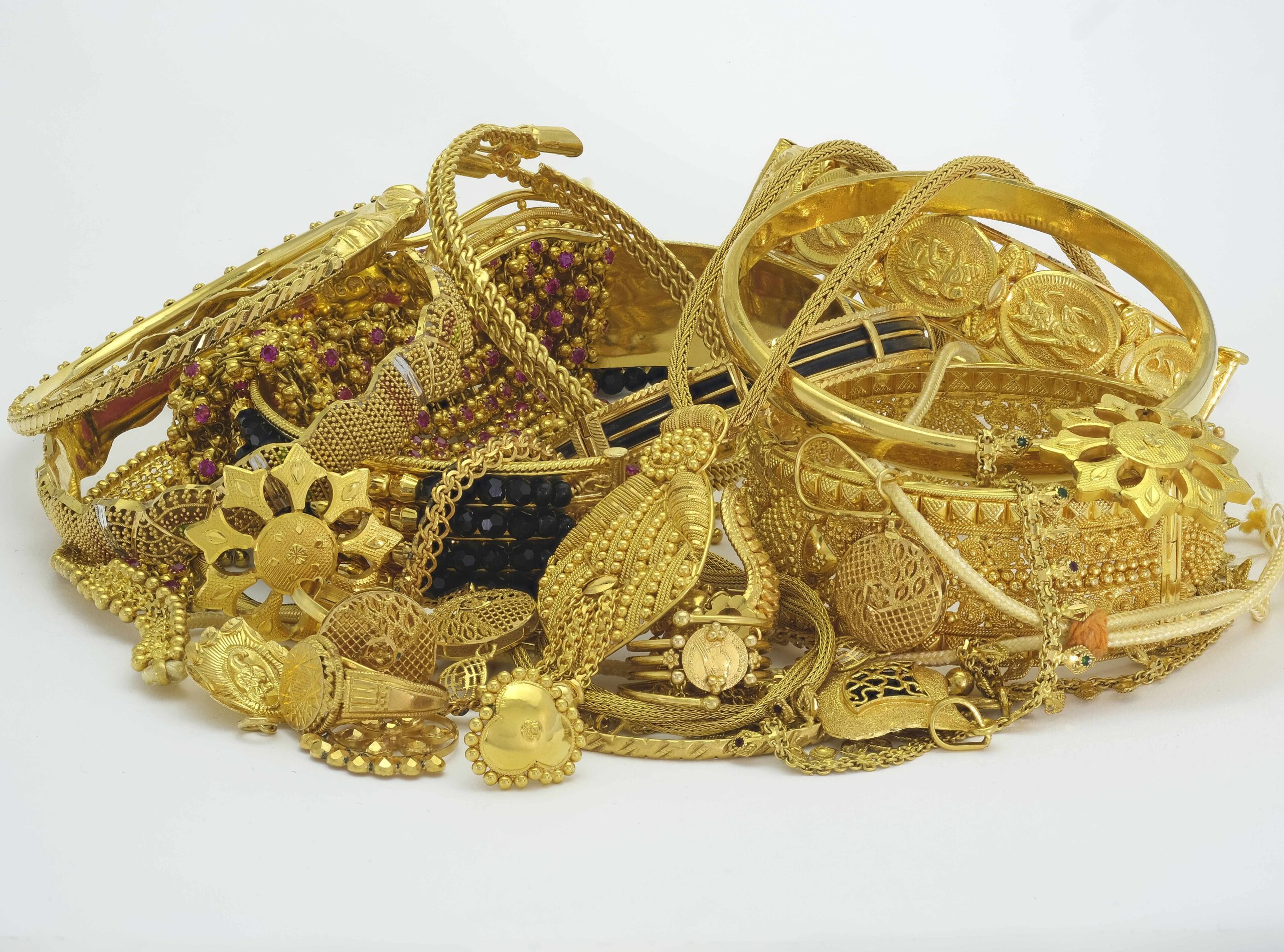 South Asian Gold Jewellery
The beauty and distinctive designs of South Asian Gold Jewellery are well-known and are inspired by their culture and tradition. This type of jewellery represents wealth, status, and importance in society. Usually, people wear this jewellery on their wedding day and shortly after, but then they store it away leading people to wonder where do I sell my Asian wedding gold? Some people can keep their gold in local banks or safety deposit centres, which is fortunate. But most people have to get creative and find ways to hide their gold, and unfortunately, hiding it in places like bags of flour or the attic is not very effective. According to a BBC investigation, Asian gold jewellery worth over £140m has been stolen in the UK from 2014 to 2019. The closure of many bank storage facilities has forced many owners to keep their gold at home, causing them to worry about its safety when leaving the house or going on vacation.
Best Prices for Asian Gold
Lois Bullion is experiencing an increase in the number of Asian community members selling their gold due to the high prices and the worry of theft. Our team strives to provide clear, efficient, and thorough assessments of your gold. If you decide to sell your gold, we offer same-day instant payment directly to your UK bank account.
We purchase gold jewellery from various regions including Asia, South Asia, and the Middle East.
What Carat Gold Is Asian Jewellery?
Here are some examples of countries and the typical gold carats you find in jewellery
Gold from China – 24ct
Gold from India – 22ct -24ct
Gold from Pakistan -22ct -24ct
Gold from Bangladesh 22ct, 24
Gold from Sri Lanka – 22ct, 24ct
Gold from Somalia – 21ct
Gold from Saudia Arabia – 18ct, 21ct, 22ct
Gold from Thailand – 18ct – 22ct, 23ct, 24ct
Gold from Dubai – 18ct, 21ct, 22ct, 24ct
Gold from UAE – 18ct, 21ct, 22ct, 24ct
We Buy All Types of Asian Gold Jewellery
Asian gold anklet
Asian gold bangles
Asian gold bracelet
Asian gold chains
Asian gold hoop earrings
Asian gold jewellery set
Asian gold necklace
Asian gold nose ring
Asian gold nose stud
Asian gold rings
Asian gold wedding rings
Hallmarked Asian gold
Un-hallmarked Asian gold
Our expert team is on hand to answer any of your questions you can contact us at 0121 212 1715 or email us on sales@lois-bullion.com.
Disclaimer: While we cannot provide tailored investment or tax advice, this guide attempts to offer beneficial resources and perspectives that can help people make informed decisions. If you require in-depth financial advice, it is recommended that you contact a competent professional advisor who is appropriately qualified.
Scrap Calculator for Asian Gold Jewellery
Use our scrap calculator to get the value of your Asian gold jewellery.
Scrap Calculator
How much is your Asian gold jewellery worth?
How To Sell Your Asian Gold Jewellery
Step 1
Feel Free To Call Our Showroom To Get A Price Or Use Our Gold Scrap Calculator If You Know Your Gold Weights And Purities.
Step 2
If In Store, We Will Assess Your Items On The Spot In-Front Of You And Make You An Offer. If Posting To Us, Fill In Our Form. And Send It Off With Your Items.
Step 3
Package Your Items Securely And Post Them To Us, Make Sure You Adequately Insure Your Items And Pack Discreetly.
Step 4
Once We Agree A Price, Whether It's In Store Or Over The Phone, We Will Arrange An Immediate Bank Transfer Or Issue A Cheque If You Prefer.